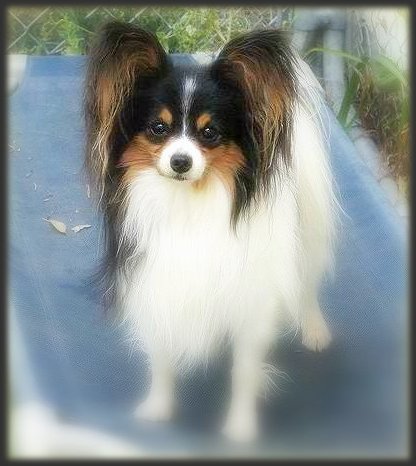 ~ Ch Crisanda Game Of Chance SOM~
Zack finished his American championship quickly in the skilled hands of his handler Brenda L. Combs, by going WD and BOW for a 5 point major in addition to receiving an Award of Merit. Due to the order in which Zack won his points he finished with with 19 points including four majors(two 5 point majors, a 4pt, a 3pt, and a two point win). Our new American champion returned home in lovely condition, and I am delighted to have his show career behind him because he is home to run in his big yard...something he loves to do, not to mention I missed him terribly!
Zack became a Sire Of Merit in 2013.
Zack is the full litter brother to
Ch N Crisanda Chance Seque
, and
Ch N Crisanda Get My Drift RN.
He is the half brother to
Ch Crisanda And The Crowd Went Wild
,
Ch Crisanda Royal Eclipse
,
Ch Crisanda Stand Out From The Crowd
, and
Ch Crisanda Whisper On The Wind (DOM)
.
| | | |
| --- | --- | --- |
| Height: 10.5" | Weight: 9# | Stud Service: By Private Treaty |
CLICK HERE TO READ ADDITIONAL STUFF ON ZACK!....»
Champion Crisanda Game of Chance SOM
| | |
| --- | --- |
| Sex | Dog |
| Breed | Papillon |
| D.o.B | 17-Apr-2004 |
| Breeder/Owner | Vickie Ehrlekrona |
Parents
Grandparents
Great Grandparents
AM CH Denzel Fighting Chance RN
AM CH Denzel The Risktaker (CERF #PA-1562 Category E at 3 Years)
AM CH Loteki Denzel Svengali CD (SOD) (HIT; CERF #PA-1558 Cleared at 11 Years)
Denzel The Cat's Pajamas
AM CH Denzel Wishful Thinking (DOM) (CERF #PA-1545 Cleared at 6+ Years)
AM CH Denzel Double Jeopardy (CERF #PA-1546 Cleared at 9+ Years)
AM CH Denzel Wish Upon A Star
AM CH Ken Mar Painted War Party (DOM)
AM CH Ken Mar Party On A Wave (SOM)
AM CAN CH Loteki Party Animal (SOD)
AM CH Ken Mar Liz Claiborne (DOM)
Ken Mar Numero Dos (DOM)
AM CH Ken Mar Thunder Chief (SOM) (AKC DNA #V119460)
Ken Mar Wild Heart (DOM)

Pedigrees are deemed reliable but not guaranteed for accuracy.

The beautiful Papillons that grace the pages of this website took over 30 years of pedigree research, skill, knowledge, heartache and dedication, and as a result Crisanda is able to produce lovely, typey Papillons today.
©Vickie Ehrlekrona ~ Crisanda Papillons ~
All rights reserved
©2011-2015