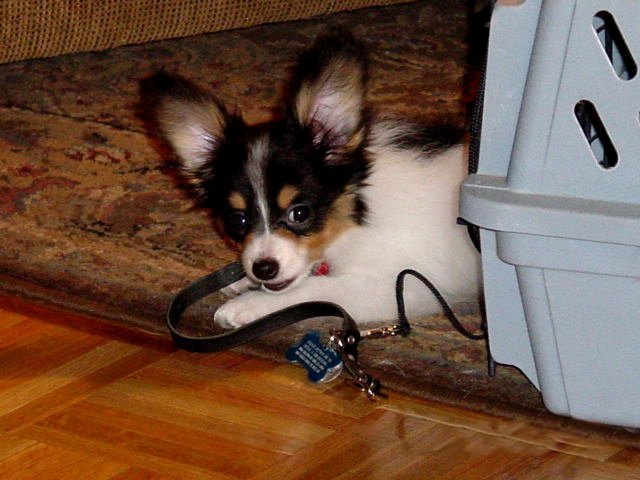 ~ WARRANTY ~
Crisanda takes great pride in the quality of Papillons and Affenpinschers it produces. Without exception your puppy has had a wonderful start in life. Your puppy is guaranteed to be in good health to the best of my knowledge at the time of sale. We strive to screen our dogs to avoid genetic health issues and we certainly never use dogs with known health issues!! We seldom, if ever have had issues of poor genetic health in our dogs and to date have had tight knees, strong hearts and good eyes. Our puppies and dogs are healthy and usually live out long happy lives with proper care, and love.
Your puppy appears to be in good health at the time of sale, however we have no control over the health of puppy past the 72 hour guarantee window. This 72 hour warranty applies to life threatening infectious diseases only, not cosmetic. All other circumstances do not appy. All puppies are sold as is. **Please be aware that at no time after the sale or during the lifetime of the dog will a buyer's money or expenses EVER be refunded, for any reason, and that there are stringent requirements that have been put in place to meet any replacement of a puppy so please read the following conditions very carefully. The buyer agrees that at no time will they seek financial restitution from the seller for any amount or for any reason.
The sales contract on the puppy is a guarantee of overall good health at the time of the sale with the understanding that things common in dogs and puppies may still need to be addressed (i.e. yearly wellness examines/& health check-ups, routine worming and screening, parasite or flea control, puppy vaccination series and boosters, rabies, spaying, neutering, etc.) All puppies come with UTD age appropriate vaccinations, de-worming, and vet checked prior to leaving. Your puppy has been immunized with at least one vaccine, and wormed according to the health record provided to you at the time of the sale.
In order to verify and validate the health of the puppy at time of sale, as well as to ensure proper timing of any vaccinations, it is required that a puppy be taken to the buyer's veterinarian of choice within the first 72 hours of receipt to have the puppy thoroughly examined for general wellness. It is recommended that the initial examination include a fecal sample, a thorough examination of eyes, ears, knees, heart and lungs and findings be noted accordingly. A general blood panel is a good base line to AFTER 6 months of age. I will not do blood work on very young puppies. Your puppy is guaranteed healthy for 72 hours from the time of placement (from such things as distemper and parvo), and not cosmetic structure. Due to an array of viral and contagious diseases we strongly discourage taking your Crisanda puppy to areas such as dog parks, Pet Smart, dog shows, daycares, or other areas where other dogs are until all vaccinations are up to date. Seller guarantees the puppy until 1(one) year of age (unless otherwise contracted) against **life threatening** hereditary or congenital defects that *seriously* effect the life of the dog. NOT COSMETIC!
Breeder is to be notified IMMEDIATELY of any signs of illness or distress during the period of guarantee, and failure to do so will render any guarantee null and void. Buyer must include the breeder/seller in decision making process and should a problem arise give her full access to the veterinarian and staff treating the Papillon, and access to all medical records or the guarantee is void. Under no circumstances is a puppy/dog to be destroyed prior to notification by the buyer to the breeder and with written consent. Any Papillon for which the buyer expects replacement must be returned to the breeder so that identity of the Papillon can be verified and a second opinion sought. Proof of up-to-date vet care (vaccinations and routine care) will be required. Seller is not responsible for vet care costs while in the possession of the buyer.
Puppies are always sold as pet quality with a spay/neuter contracts enforced unless otherwise specified. Breeding rights are never extended to a buyer and they are not guaranteed for anything other than pet quality. Puppies may be picked up between 10-12 weeks, or shipped at 12-16 weeks. Affens can seldom, if ever be shipped due to their short noses and the risk shipping poses to them. Papillons do just fine.
Upon signing and accepting the terms of the contract provided a buyer, any and all disclosed and known health concerns or defects the Buyer is accepting and agreeing to health guarantee as stated. The guarantee stated described in this section will not apply to these disclosed health concerns or defects. This agreement is made for mutual benefit to protect all parties. In most cases a health certificate signed by a veterinarian will be provided at the time of sale (if shipped, verifying that the Savannah puppy is in general good health. If for any circumstance there is not sufficient time for the Seller to receive a health certificate the Buyer accepts the Sellers guarantee of good health in place of a vet health certificate.
REFUNDS, REPLACEMENTS AND EXPENSES:

*PLEASE NOTE:



~ All deposits/or funds sent are non-refundable & non-transferable ~

The goal of of Crisanda is to place our dogs/puppies in loving homes in a timely manner so they may bond with their new family. If a dog/puppy is held specifically for a buyer, a change of mind can quite often jeopardize the chance for that particular puppy to be placed in a home while still at a desirable age.

A deposit gives you a guaranteed position in line on the waiting list in the same order in which the deposit was received or it reserves a buyer a puppy that is currently available from a litter. By sending a deposit, a buyer is entering into a legally binding contract both implicitly and expressly to purchase the specified animal for which the deposit was made.

There will be no cash refunds of any kind, for any reason nor any circumstance. This includes, but is not limited to holding fees, deposits, pre-payments, purchase price, shipping charges, or other costs or expenses related to any puppy sold. This means that if you send funds to hold or purchase a puppy at no time will cash funds ever be returned to you for any reason which includes risk of loss. Provisions for risk of loss have been made as set forth in my contract and a buyer is covered and taken very well of there.


**I have never had a family have to return an animal to me, however I want to make it very clear that at any time during the lifetime of the animal I will take my any of my puppies back! None are ever to be surrendered to rescue, animal shelters, pounds, human societies, other families, etc.
Any
dog I breed or sell can
always
be returned to me at
any
age for
any
reason.

©Vickie Ehrlekrona ~ Crisanda Papillons & Affenpinscers ~
All rights reserved
©2011-2015