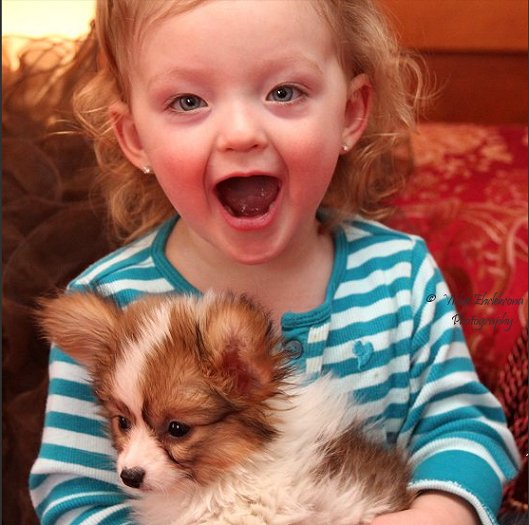 Crisanda babies are kid tested & Raeney approved!
~ Papillons and Affens Currently Available At Crisanda ~
SEE AVAILABILITY BELOW!!
Thank you for taking the time to take a peek at what Crisanda has to offer in the way of quality pet Papillons. I am proud of the quality of Papillons and Affens I have produced, and many of my pretty dogs can be found throughout my website. The dogs I offer below are nice dogs, with good temperaments and all are healthy. All will adjust to being in a companion home. All they need is a few extra weeks of adjustment to their new families routine. I have placed all of my retirees successfully and none have ever been returned due to lack of adjusting to their new homes. All are cherished pets.
* CLICK on the underlined yellow names BELOW to go to each Papillon's individual page.
| | |
| --- | --- |
| Retired Papillons Listed Below Are For Sale | Availability Page Last Updated: 07/16/17 |
| Email: crisanda@att.net | Contact Phone: (406) 661-2300 |
Like any show breeder I occasionally have puppies, adolescents, and retirees of both sexes for sale. We are reducing our numbers substancially to accomdate retirement so Crisanda welcomes your inquiry and encourages you to contact us regarding a puppy, adolescent or retired Papillon. We have a litters planned throughout the year, as well as beautiful adolescent and retired dogs available now in both sexes & most colors.
I strive for beautiful, healthy, well rounded puppies and all of my Papillons are *very* reasonably priced considering their quality and pedigrees. Occasionally some are made available to loving pet or performance homes to love and cherish, however that does not mean they are free. I welcome all inquiries, but please contact us only if you're seriously looking for that special Papillon. Thank you.

** We are located in Billings, Montana. We prefer our babies be picked up face to face. Thank you.
*All puppies are under evaluation and their prices are
subject to change until a deposit is received or they are purchased.
Prices vary from puppy to puppy due to sex and quality. (USA pricing listed only.) Inquire about exporting pricing.) Shipping is additonal.

*PLEASE NOTE:



~ All deposits/or funds sent are non-refundable & non-transferable ~


The goal of of Crisanda is to place our dogs/puppies in loving homes in a timely manner so they may bond with their new family. If a dog/puppy is held specifically for a buyer, a change of mind can quite often jeopardize the chance for that particular puppy to be placed in a home while still at a desirable age.

A deposit gives you a guaranteed position in line on the waiting list in the same order in which the deposit was received or it reserves a buyer a puppy that is currently available from a litter. By sending a deposit, a buyer is entering into a legally binding contract both implicitly and expressly to purchase the specified animal for which the deposit was made.

***There are *no* cash refunds of any kind, for any reason or circumstance. This includes, but is not limited to holding fees, deposits, pre-payments, purchase price, shipping charges, or other costs or expenses related to any Papillon/s sold. This means that if you send funds to hold or purchase a Papillon at no time will cash funds ever be returned to you for any reason which includes risk of loss. Provisions for risk of loss have been made as set forth in my contract and a buyer is covered and taken very well of there.


| | |
| --- | --- |
| Sale Terms & Conditions: Yes | Puppies Currently Available: No |
| Adolescents Currently Available: Yes | Retirees Currently Available: No |
| Performance/Obedience/Companions: Yes | Pedigree/Champion Sires and Dams: Yes |
| Show Prospects: No | Breeding Prospects: No |
| Sold With Breeding Rights: No | Is Spay/Neuter Required: Yes |
| Sold Intact: No | References Required: Yes |
| AKC Registered: Yes | Contract: Yes |
| Health Guarantee/Warranty: Yes | UTD On Vaccinations: Yes |
| Is Shipping Additional: Yes | Regular Shipping Fee: $350 |
| Is Shipping Additional: Yes | DASH Shipping Fee: $450 |




The beautiful Papillons that grace the pages of this website took over 30 years of pedigree research, skill, knowledge, heartache and dedication, and as a result Crisanda is able to produce lovely, typey Papillons today.



©Vickie Ehrlekrona ~ Crisanda Papillons ~
All rights reserved
©2011-2015