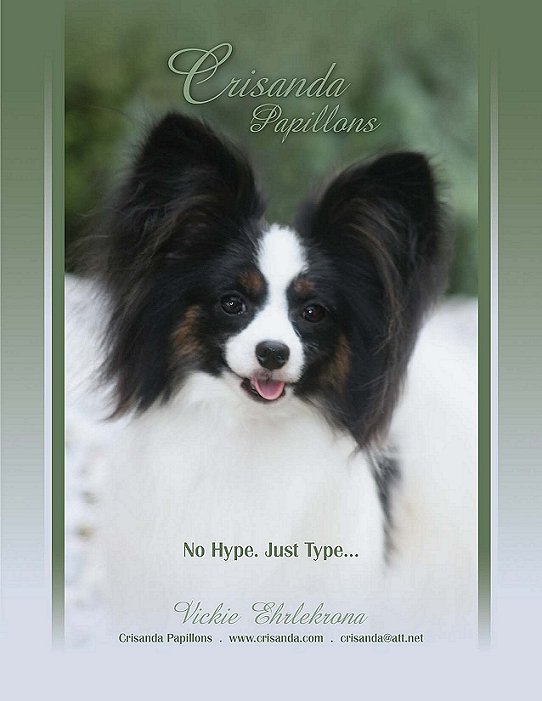 Shown above is Ch. Crisanda Mark My Words
Welcome to Crisanda Papillons & Affenpinschers..
Hello, my name is Vickie Ehrlekrona and I am the owner of Crisanda Papillons & Affenpinschers™. I thank you for dropping by today, and I welcome you to my large and informative site! I have been told by many, many visitors that my website is user friendly, and beautiful. Thank you, I just happen to agree! The entire purpose for this site is to make you feel like a welcomed guest, and to feel like you are just dropping by for a hot cup of coffee. I want you to spend as much time here as you need to, taking your time to learn about Papillons to see if they are the right breed for you and your family. I want you to feel like this is a safe place to ask questions. Remember you're my guest, so please ask me whatever questions you may have regarding the breed or myself.

Now, a little bit about myself. I started in Papillons in 1982 with the purchase of a lovely R/W bitch from Doris Hodges, named Ch. Hodges Rasin H CD.
I am an AKC Breeder of Merit with the American Kennel Club, a PCA Judges Education Mentor, and I have been a member in good standing with the Papillon Club of America since 1984. I also belonged to the Columbine Papillon Club based in Colorado while it was still active. I have shown and titled numerous breeds of dogs in both breed and obedience since 1978, but have been exclusively breeding and showing Papillons since 1982. I have served on several PCA committes throughout the years; JE Mentor, PCA Color Comittee, Pap Talk Committee, serving as a regional reporter, proof reading advertisements, and the PCA Reflections Committee. I am the List Moderator/Owner of an on-line group; The Original Phalčne List(founded 1998),and I'm a member of about twenty more!
Since I bought my first little Papillon I have had the honor of owning, showing, and finishing many lovely Papillons and all credit must either be given to the breeders whom so graciously entrusted me with their quality dogs, or allowed me access to their lovely stud dogs. I've shared a few of these dogs with you on my website and I hope you enjoy viewing them as much as I had the pleasure of owning and loving them. Take your time browsing through all the pages of our dogs, past and present. Many of our first Papillons can be found on the "In Memory" page, all of them are now gone. They were all cherished companions and are greatly missed.

" When you feel like giving up, remember
why you held on for so long in the first place."
The beautiful Papillons that grace the pages of this website took over 50 years of pedigree research, skill, knowledge, heartache and dedication, and as a result Crisanda is able to produce lovely, typey Papillons today.
©Vickie Ehrlekrona ~ Crisanda Papillons & Affenpinschers~
All rights reserved
©2011-2025

(Large center image of Ch Marcus, and center banner image of Naveah, and far right banner image are courtsey of Team Garofalo)