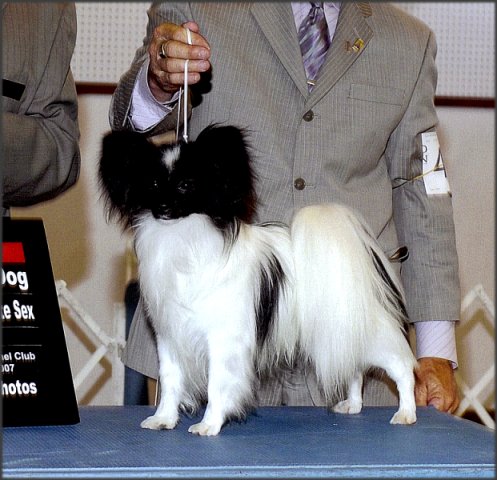 ~ Devon ~
Devon's markings are unique to say the very least and less than desirable for me on a good day, however he was a singleton puppy so my selection was limited, and his pedigree far to valuable to let him go because of less than perfect head markings. As always he is beautifully bred from top producing lines. Devon showed great promise of being as structurally sound as his mother's other champion offspring so I knew he'd mature into a lovely dog. This minimal tri boy is usually to busy for formalities so he is tough to photograph, but to date, less head markings, Devon is a very pretty, very happy dog. He has huge wide based ears, with glorious correct coat and lots of it.
Update: **On July 14th,2007 in less than a month of showing Devon became his dam's 7th champion!
Devon is the half brother to
Ch Crisanda And The Crowd Went Wild
,
Ch Crisanda Game Of Chance
,
Ch Crisanda Stand Out From The Crowd
,
Ch N Crisanda Chance Seque
Ch Crisanda Whisper On The Wind (DOM)
, and
Ch N Crisanda Get My Drift RN.
| | | |
| --- | --- | --- |
| Height: 10.5" | Weight: 9# | Stud Service: By Private Treaty |
CLICK HERE TO READ ADDITIONAL STUFF ON DEVON!....»
Champion Crisanda Royal Eclipse
| | |
| --- | --- |
| Sex | Dog |
| Breed | Papillon |
| D.o.B | 25-Mar-2006 |
| Breeder/Owner | Vickie Ehrlekrona |
Parents
Grandparents
Great Grandparents
AM CH Denzel Loteki Crown Prince (SOD) (1999 Westminster AOM; 1998 US-PCA BISS; BISS Winner; CERF #PA-1559 Cleared at 7+ Years)
AM CH Lightfoot's Crown Royale
AM CH Loteki Denzel A Touch Of Frost (SOD)
AM CAN CH Lightfoot's Bella Luna (DOD)
AM CH Denzel Loteki Snowbound (CERF #PA-1565 Cleared at 10+ Years)
AM CH Denzel Loteki Spellbound (SOM)
Ken Mar Maximilian Dakota Lil (DOM)
AM CH Ken Mar Painted War Party (DOM)
AM CH Ken Mar Party On A Wave (SOM)
AM CAN CH Loteki Party Animal (SOD)
AM CH Ken Mar Liz Claiborne (DOM)
Ken Mar Numero Dos (DOM)
AM CH Ken Mar Thunder Chief (SOM) (AKC DNA #V119460)
Ken Mar Wild Heart (DOM)

Pedigrees are deemed reliable but not guaranteed for accuracy.
" If you have choices, choose the best. If you have no choice, do the best. "
~ Wilson Kanadi ~

The beautiful Papillons that grace the pages of this website took over 30 years of pedigree research, skill, knowledge, heartache and dedication, and as a result Crisanda is able to produce lovely, typey Papillons today.
©Vickie Ehrlekrona ~ Crisanda Papillons ~
All rights reserved
©2011-2015