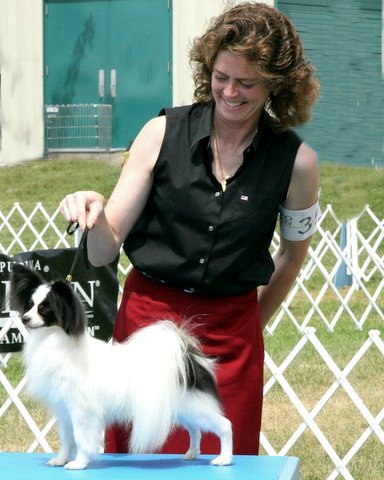 ~ Wils ~
Wils is another pretty champion male bred by Crisanda. He is as sweet as they come, easy going, balanced, sound, and pretty. He gives me huge ears and lovely heads on his puppies. He finished his American championship quickly in the skilled hands of his handler Chris Jones. Wils has been a wonderful producer for me and has consistently given me lovely puppies to work with. Our lovely Ch Marcus and CH JoJo are two of the get we have held back from Wils.
Wils is the litter brother to
Ch Crisanda Stand Out From The Crowd
, and the half brother to
Ch Crisanda Royal Eclipse
,
Ch Crisanda Game Of Chance
,
Ch N Crisanda Chance Seque
Ch Crisanda Whisper On The Wind (DOM)
, and
Ch N Crisanda Get My Drift RN.
| | | |
| --- | --- | --- |
| Height: 10.5" | Weight: 8.5# | Stud Service: By Private Treaty |
Champion Crisanda And The Crowd Went Wild
| | |
| --- | --- |
| Sex | Dog |
| Breed | Papillon |
| D.o.B | 17-Jan-2005 |
| Breeder/Owner | Vickie Ehrlekrona |
Parents
Grandparents
Great Grandparents
AM CH Wingssong And The Crowd Roared (SOM) (2004 Westminster AOM)
AM BDA CAN CH Josandre' Watchmewin (SOD) (BIS and BISS Winner; CERF #PA-498 Cleared at 5 Years)
AM CAN CH Kvar Touch of Josandre' CD (SOD) * (BIS and BISS Winner; CERF #PA-247 Cleared at 11 Years)
AM CH Josandre' Mira Mira
AM CH Domino's Ain't Misbehavin
AM CH Wingssong Bad As I Wanna Be
AM CH Domino's Silent Snicker
AM CH Ken Mar Painted War Party (DOM)
AM CH Ken Mar Party On A Wave (SOM)
AM CAN CH Loteki Party Animal (SOD)
AM CH Ken Mar Liz Claiborne (DOM)
Ken Mar Numero Dos (DOM)
AM CH Ken Mar Thunder Chief (SOM) (AKC DNA #V119460)
Ken Mar Wild Heart (DOM)

Pedigrees are deemed reliable but not guaranteed for accuracy.
" Never hold on to the past, it gets in the way of your future. In other words don't chase your memories when you can chase your dreams! "
~ R2r.0 ~

The beautiful Papillons that grace the pages of this website took over 30 years of pedigree research, skill, knowledge, heartache and dedication, and as a result Crisanda is able to produce lovely, typey Papillons today.
©Vickie Ehrlekrona ~ Crisanda Papillons ~
All rights reserved
©2011-2015