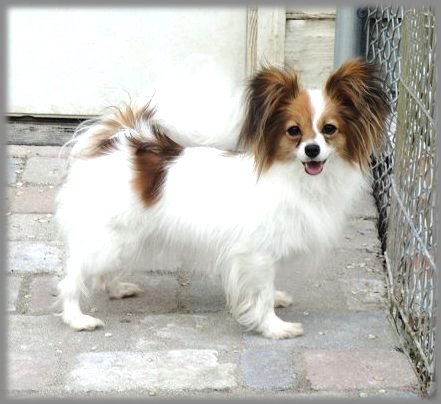 ~ Serena ~

| | |
| --- | --- |
| DOB: 04/27/08 | Sold as pet only on spay only. |
| Price: $600 | Shipping: $350/or DASH $450 |
Serena is a pretty red sable female with beautiful structure, lovely length of neck, huge, round, wide based heavily fringed ears, lovely dark pooled eyes, dark black pigment, nicely set teacup tail,lovely topline with dripping coat.
She is a very pretty Zack daughter and the last daughter for her lovely Phalene mother, Moonlight Seronera, who was retired to her forever home once she weaned Serena's litter. I thought it only fitting that I named this little girl along the same theme as her mother Nera.
Serena is a half sister to
Crisanda To Wicked For Words
,
Crisanda Coup De Grâce
,
Crisanda Don't Jack With Me Jubele
,
Ch Crisanda Set My People Free
,
Ch Crisanda On Top Of His Game
,
Crisanda For The Love Of The Game
,
Crisanda A Lingering Whisper
,
Crisanda Whispers From The Heart
,
Tricked Out Trick For Crisanda
, and
Crisanda Beat Em' At Their Own Game.
| | |
| --- | --- |
| Height: 10.1/4" | Weight: 7# |
Crisanda Moonlight Serenade
| | |
| --- | --- |
| Sex | Female |
| DOB: | 27-April-2008 |
| Breeder/Owner | Vickie Ehrlekrona |
Parents
Grandparents
Great Grandparents
AM CH Crisanda Game of Chance
AM CH Denzel Fighting Chance RN
AM CH Denzel The Risktaker (CERF #PA-1562 Category E at 3 Years)
AM CH Denzel Wishful Thinking (DOM) (CERF #PA-1545 Cleared at 6+ Years)
AM CH Ken Mar Painted War Party (DOM)
AM CH Ken Mar Party On A Wave (SOM)
Ken Mar Numero Dos (DOM)
Crisanda Moonlight Seronera
Kvar Janhite Moon Grumbles
Multi-Champion (DK FI INT NU SU) Tankan's Phantom O'The Night (1999 and 1998 #1 Phalene in Sweden; 1997 #4 Phalene in Sweden; Eyes Cleared as of 1998NOV23)
AM CH Kvar Janhite Full Moon Rising
Kvar Janhite Sable Moon
AM CH Nitewing's Red Coats A'commin'
AM CH Inkies No No Nanette (CERF #PA-1381 Cleared at 3 Years)
Pedigrees are deemed reliable but not guaranteed for accuracy.