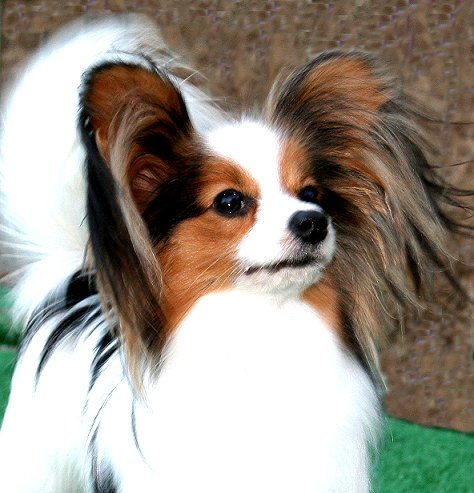 ~ Clark ~

| | |
| --- | --- |
| DOB: 09/03/06 | Sold as pet only on neuter only. |
| Price: $350 | Shipping: $350/or DASH $450 |
With his dashing good looks, southern charm, and lovely breed type Clark certainly fits the image of a beautiful Papillon. Clark is looking for his forever home. He is a well mannered sweet dog that has many good years left to give a family. He should be considered by anyone that has a quiet household that he can acclimate to. At 8 he is missing a few incisors but that does not effect his dashing good looks or his eating. He would like a lap to cuddle on and a family to make him their prince. He is a non demanding dog, not hyper in any way, quiet natured and very compliant to all that is asked of him.
There are so many things I love about this pretty boy starting with his beautiful breed type, perfect markings set on a pretty head piece, lovely shaped & dark sparkling eyes, black pigment, rich coloring set against a back drop of brilliant clear white *correct* silky textured coat, big round, wide based, heavily fringed ears, and all wrapped up in a totally sweet & easy going temperament. He is a delight to live with for sure.
As always he is beautifully bred and is a wonderful addition to my breeding program, bringing in new, yet similar lines to my girls all the while maintaining type, and quality. I have not used him much to date but he has proven that he can put lovely heads, temperaments, and correct "bright white" coats on his babies.
Clark completed his championship quickly, winning all but one of his points from the puppy class.
I have always loved Clark's sire Bravo, so Clark is a special boy for me to welcome here at Crisanda. Clark is only one of two male dogs I own that was not born here. That says a lot about how much I like him.
| | | |
| --- | --- | --- |
| Height: 10.5" | Weight: 8# | Stud Service: No |
Champion Forevr Clark Gable
| | |
| --- | --- |
| | |
| Breeders | Forevr Papillons |
| Owner | Vickie Ehrlekrona |
Parents
Grandparents
Great Grandparents
AM CH
En-la's
Bravissimo (SOD) (AKC DNA #V120109)
AM CH Paraja's Obsession For Laser (SOM) (CERF #PA-1325 Cleared at 3+ Years)
AM CH Ken Mar Oscar De La Renta (SOM) (AKC DNA #V119460)
AM CH Ken Mar Camberwell Beauty (DOD) (CERF #PA-995 Cleared at 4+ Years).
AM CH Envy Ears For Cheers (DOM) (1999 Westminster BOS)
AM CH Titian's Jubilant Joker (SOM) (CERF #PA-433 Cleared 5+ Years).
Envy My Fuzzy Lass (DOM)
AM CH Forevr Greta Garbo
AM CH Lyndylore Black Russian (SOM) (CERF #PA-644 Cleared at 6+ Years)
AM CH Stouravon Planters Punch (SOM)
AM CH Lazybonz Gaea of Lyndylore
AM CH Cadaga Starshine
AM CAN DUTCH INT CH Loteki Supernatural Being (SOD) (1998 BIS - WORLD Show in Finland; 1999 BIS Westminster KC; 1996 Group 1st Westminster; 1999; 1998; 1996; and 1993 Westminster BOB; 1997; 1996; and 1994 - 1994; 1996; 1997; and 2005 US-PCA BISS; CERF #PA-1221 Cleared at 7 Years)
Deanna's Krystal Tiffany (DOM)

Pedigrees are deemed reliable but not guaranteed for accuracy.