"Our 40th year of butterflies is here..."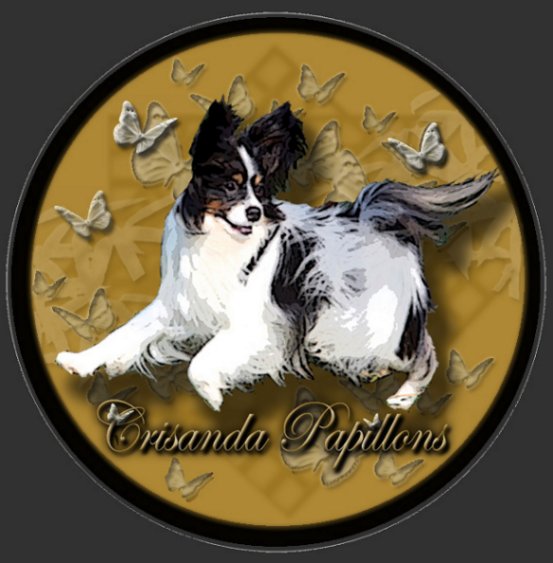 Welcome to Crisanda Papillons & Affenpinschers...
Hello, my name is Vickie and I am the owner of Crisanda Papillons & Affenpinschers™. I thank you for dropping by today, and I welcome you to my large and informative site! I have been told by many, many visitors that my website is user friendly, and beautiful. Thank you, I just happen to agree!
Crisanda's beautiful logos are the creation of my dear friend:
I am an AKC Breeder of Merit with the American Kennel Club, a PCA Judges Education Mentor, and I have been a member in good standing with the Papillon Club of America since 1984, and the Affenpinscher Club of America since 2013. I also belonged to the Columbine Papillon Club based in Colorado while it was still active. I have shown and titled numerous breeds of dogs in both breed and obedience since 1978, but have been exclusively breeding and showing Papillons since 1982 and Affens since 2013. I have served on several PCA committes throughout the years; PCA JE Mentor, PCA Color Comittee, Pap Talk Committee, serving as a regional reporter, proof reading advertisements, and the PCA Reflections Committee. I am the List Moderator/Owner of an on-line group; The Original Phalcne List(founded 1998), and I'm a member of about twenty more!
The beautiful Papillons that grace the pages of this website took over 50 years of pedigree research, skill, knowledge, heartache and dedication,and as a result Crisanda was able to produce lovely, typey Papillons Crisanda was known for.
©Vickie Ehrlekrona ~ Crisanda ~




All rights reserved
©2011-2025

WEBSITE PHOTO CREDITS:



Current Banner photos taken by Vickie Ehrlekrona